Somewhere after 1996, newly returned to Uganda after a decade absence in USA for study and work, I bumped into someone, also just back. After graduating from the Royal Veterinary College, UK, Gladys Kalema, had almost immediately packed up to return "home". Her mission was to help rebuild Uganda using her rich vet education. Now employed with Uganda National Parks she was all over rebuilding the country's wildlife, long shattered through decades of war and anarchy.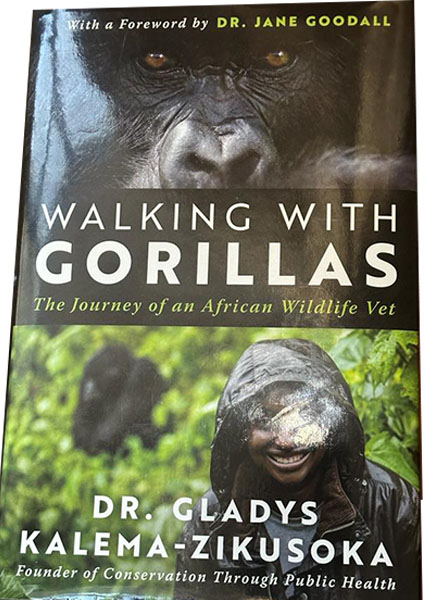 I must say I found this life of hers curious. Yes I had grown up with a guard dog at home- we called him Snap; but a life dedicated to taking care of wildlife was just out of my depth. If anything all I knew based on my university days was students who got to study vet medicine it was because they had missed out on their first choice- human medicine. But here was someone for whom practicing vet medicine by scouring national parks, habitat for wildlife, trekking to treat mountain gorillas, among others, was a life passion.
At a certain point we worked together to start a newsletter where she enthusiastically shared her adventurous work to those who might capture her vision. As our work took us in different directions, I remotely followed this wildlife vet career with a certain bemusement and growing respect, as I kept taking note of the awards she was scooping through her conservation promotion work for wildlife.
In "Walking with Gorrilas" Gladys has now put together a well candidly written story of her life, which gives a vivid account of her path breaking career as a scientist and conservationist.
Born to a political family, at age 2, Gladys suffered a family blow of many to come, when her father, William Kalema, a former Minister in the deposed Milton Obote government, was abducted by soldiers linked to the new Idi Amin regime. He was never seen again. Growing up without a Dad, though fortunately in a family with a wide rich extensive network, she would often find her solace in a brood of pets kept at home for play. At an early age she decided a vet career was for her as it would fullfil her ambition to take care of animals.
Upon return from her studies Gladys joined Uganda National Parks as the first veterinary officer, courtesy of Director Professor Eric Edroma, who gave her the job. He retinue thereafter was a most thrilling one – from following up and treating sick mountain gorillas to translocations giraffes and elephants to more accommodating environments.
The book has multiple engrossing scenes- like a time where after leading an elephant translocation exercise one white official decided to take credit claiming that Ugandans lack initiative. Gladys stood up to this burly official who had to apologize. On another occasion Gladys found herself being chased by elephants that almost crushed her to death. Then there was a narrow survival from a road accident and her mother, Mama Rhoda Kalema, ever supportive of her unconventional career, being informed she had passed on. Fortunately it was not true!
Africans have lived with our wildlife cousins in a balanced eco system for millenniums. Unfortunately economic disruption and increased land scarcity has affected co existence. After taking a break for further studies in the US, Gladys decided to found the non profit organisation – Conservation Through Public Health. It aims to promote our meaningful coexistence.
A married mother of two boys, Gladys now devotes her time promoting her conservation work, together with her husband, Lawrence Zikusooka. They met while undertaking her post graduate studies in the US and together they have formed a powerful team couple dedicated to wildlife conservation. As an IT specialist Lawrence has enhanced the conservation cause by also adding another dimension of using tele centers to share information in the community.
Observing all her work once I happened to ask Gladys what drives her. Her answer was prescient, "My fathers legacy ..!" It's not only him but I am sure her deceased siblings would all be just as proud.
After reading this book which I sensed could impact the lives of many girls I asked Gladys how it was doing on Uganda market. I gathered it was making progress but could do better. So, I want to encourage all those interested in a good inspirational read, to grab it as fast. It left me filled with pride to see a home girl who has turned an idea into a phenomenal global cause.